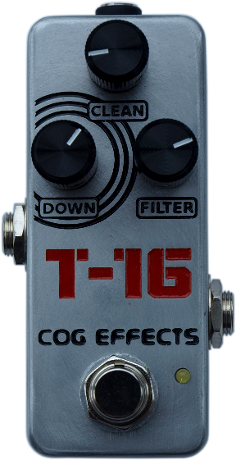 The T-16 is back!!!


The smallest analogue octave pedal in the world is back and better than ever, with increased output for more flexibility when using sub octave without the clean tone. Never mind what's going on over at Summer NAMM, this is the octave pedal your pedalboard needs and deserves!

The new T-16 has brand new simplistic "circles" artwork, and the rest of the octave range feature this new artwork too. There are no circuit changes to the T-47, T-65 or T-70

Click HERE for more information and to order your T-16
About Us
Cog Effects is a UK-based company manufacturing high-quality guitar and bass effects, and providing pedal-board solutions for life on the road.
What We Do
Cog Effects build custom guitar and bass effects to suit your individual needs, as well as a broad range of stock effects that is growing constantly. Our custom service allows you to choose the ideal pedal for your rig: from additional controls on an overdrive, through complex looping and routing solutions, all the way to remotely switched rack units - we will work with you to get the effect that you want.
Every pedal is hand-built in Sheffield using quality components and printed circuit boards. Our goal is to take good ideas and make them better, while eliminating the problems commonly found in floor effects and providing bassists and guitarists with versatile new options for their rigs. All our pedals come with a 12-month manufacturing guarantee and support for life.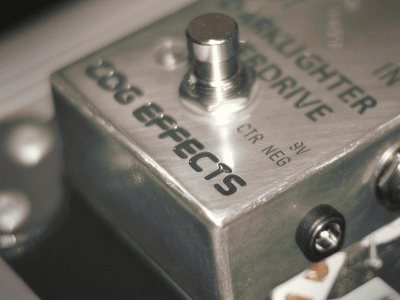 Testimonials
"The Cog Effects pedals build quality is reassuring in itself let alone the sound that comes from these solid handcrafted boxes. When I need FAT cool bass tones nothing else works for me.
The Grand Tarkin fuzz - I love the separate mid and tone controls plus blend to help me slice off a nice thick piece of fuzz tone.
The Knightfall 66 - Another great design from the COG team, this pedal enables me to thicken bass even if acres of distortion aren't even necessary. Just having this on constantly improves bass character and fullness, a must have effects pedal. Also works great on guitars and synths!"
Ross Orton, Producer/Engineer, Arctic Monkeys/Drenge/The Fall/M.I.A./God Damn

"Tarkin smashed it big time, best fuzz pedal I've ever used, well, probably the best pedal."
Rob Lee, Pulled Apart By Horses - https://www.facebook.com/pulledapartbyhorses


"I am the kind of guitar player who goes through ODs, Fuzzes and Boosts like he does toilet paper. You name it, I've tried it, got bored with it and then sold it on ebay. The fact that the Cog pedals built for me have stayed (and are staying) on my pedalboard speaks for itself. Tom's customer service is second to none. More than anything, he wants you to enjoy the pedal he's built for you. Suffice to say, I shall be back for more! Many thanks Tom."
Joe Hearnshaw, Killer Joules - http://www.reverbnation.com/killerjoules
"I've been an enthusiastic user of Cog pedals for a while now to the point where I have replaced all my previous pedals with Cog models (except for wah and univibe (come on Tom when are you gonna make them?). I have a "one box" Big Muff Clone/OD pedal, Compression, Chorus and Boost. Awaiting delivery of a delay soon. In all cases I was able to speak to Tom to get exactly the pedal I wanted and boy did he deliver. They are uniformly superbly constructed and tonally expressive with bags of presence. I've also bought a couple of models for other friends and band members who have all been massively impressed by their sound, look and reliability. If you are starting out on the road to tonal nirvana or already give Eric Johnson a run for his money there are pedals here to suit. Highly recommended."
Bill McCartney, Ten Beers After
"Really impressed with the [Tarkin] fuzz at the gig, so much more low end and really worked well with the songs that I use it for.
Thanks again!"
"I asked Tom of 'Cog Effects' if he would be able to make me a crazy fuzz effect similar to that of a Woolly Mammoth! This is a man who cares about your needs, every step of the way his contact with me was fantastic! Everything I wanted was discussed with zero hassle :-)
My pedal was made and shipped (and for a hand made pedal from scratch) in great time. When it arrived I gave it a good going over... what can I say... fantastic quality and sound! I was very impressed! With Tom's detail to the customer's needs and professional manner I will certainly use him in the near future".
Daniel Bowskill, Abelarcher