Knightfall 66 Bass Overdrive
Designed, tweaked, changed, changed back, tweaked some more, one more change and finally released - the Knightfall 66 has been a long time coming. Capable of providing fat cleans, old school mid-heavy growl, all the way through to high gain overdrive, the Knightfall 66 is the drive pedal you need on your bass pedalboard.
Two separate Gain controls can be switched with the A/B footswitch, and each Gain control also has a Level control to allow balancing between the two drive settings. The Voice knob adjusts pre-gain low end providing additional control over the shape of the overdrive, and the Tone control cuts high end after the clipping circuit giving a broad sweep from dark through to very bright.
The clean channel is filtered in a similar way to the Grand Tarkin's clean channel and designed to properly blend with the drive channel - rather than sounding "side-by-side", the two channels integrate for a more natural tone.
The Knightfall 66 can be powered up to 18v for increased headroom and dynamic feel.

* A/B footswitch gives different Gain settings without losing balance of levels
* Filtered clean blend allows extensive sound shaping in conjunction with Gain, Voice and Tone
* 2.1mm Boss-style 9v-18v DC input (power supply not included)
* North-mounted jacks to reduce pedalboard footprint
* True Bypass
* Die-cast Aluminium box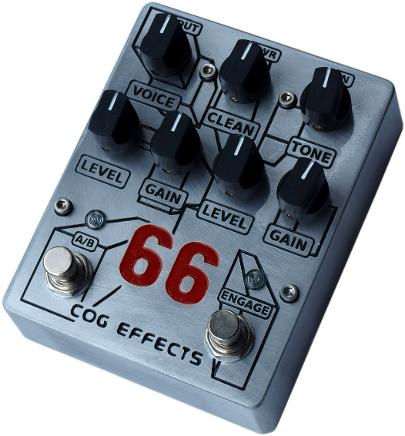 This site uses cookies. For more information, please read our Privacy Policy.